"Monarch" FM5 Mooching Reel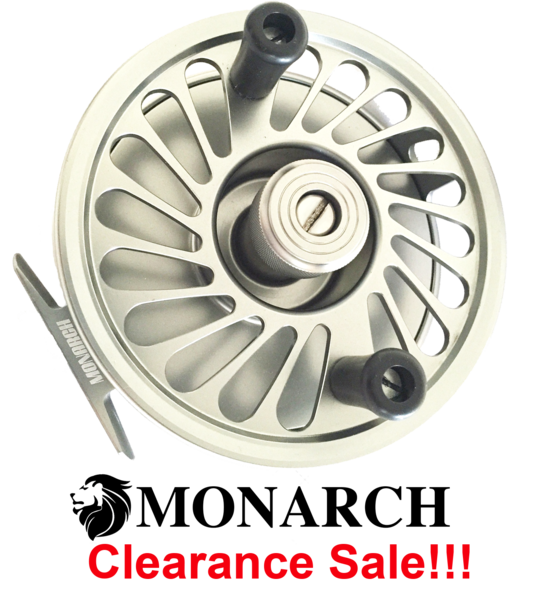 "Monarch" FM5 Mooching Reel
New to the West Coast is our 5 inch Diameter FM5 Monarch Mooching Reel.

Made of T6061 Type III hard anodized aluminum, featuring a double pawl system that allows for either right or left hand retrieve.

Our new revolutionary design of a 3 part disk drag system consists of 2 carbon / one cork disk provides infinite control and ultimate braking power.

Precision Stainless Steel interior components with new technology on the clicker gear: Type III Hard Anodizing. This means lighter gear with extreme durability.

Over-sized Delrin Handles allow for easy access to the drag knob to prevent "knuckle busting".

A lack of porting on the back allows for personalization engraving.

All Monarchs come with an extra drag spring of different thickness to allow for either a one turn quick lock up of the drag, or a few turns to find that sweet spot. A new innovation to the Saltwater Industry.
Extra O-rings, clicker, spring and drag spring included.

Size O/S Diameter I/S Diameter Spool Width Weight Capacity


5 " 127 mm 44.5 mm
27.94 mm 21.16oz 400+30lb
Forged Monarch FM5 Mooching Reel:
2 year Limited Warranty
(Remember: disengage drag when not in use)
Disclaimer of Warranties and Limitations on Liability
Should any damage occur to your Forged Reel, we will promptly repair or replace according to Forged's Warranty Policies.
Forged Warranty Policy
Forged stands behind the products we make and your satisfaction is important to us. Forged designs gear that performs and gets the most out of your time in the great outdoors.
We understand the importance of quality gear and you deserve products that perform. If you are not satisfied with any Forged product, you may return the product in accordance with Forged's warranty policy.

Reel Warranty

Every new Forged "Monarch" FM5 Mooching Reel is covered by a 2 year Limited Warranty against defects in materials and workmanship and must include a dated proof of purchase.This warranty is limited to repair or replacement of the reel only, and does not cover direct, indirect, consequential, incidental or any other type of damage resulting from the use of the product. This warranty does not cover misuse, neglect, normal wear, fire, theft, loss, or intentional damage. Forged reserves the right to determine whether to repair or replace any Forged product covered by this warranty and the right to replace any discontinued models with the newer models when necessary. Colors variation between original and replacement parts will only happen with the permission of the model's owner. In order to invoke this warranty, the original owner must send the entire Forged Product, including broken parts or pieces, freight paid and insured to the address given to the owner once they have contacted Forged.