Forged

Pro

Staff
FORGED® couldn't be happier with its Pro Staff family, for they are the embodiment of why we do what we do. Our Pro Staff are Professionals in this Industry, and their stewardship of the environment and ability to make all clients feel like second-to-none do FORGED® proud. As well as Ambassadors to FORGED®,  our Pro Staff also contribute to the brand with designs, improvements and fantastic photography of their unforgettable excursions. If you're looking for a Guided trip, you've come to the right place.
 

  Russell

Kronstrom
Russ lives in Duncan, British Columbia, and is an amazing outdoorsman and angler to have as our Pro Staff Member! The Duncan Gone Fishin' Shop is where you'll find Russ running things when he's not out on the water, making himself invaluable testing out Invictus Freshwater Reels!
"
Hi, My name is Russell Kronstrom and I am honored to join the Forged Fly FIshing Pro Staff team. My outdoor activities include Hunting, Sturgeon and Ocean fishing, and freshwater angling. I hope to share my angling journey with the Forged audience as much as I can! Cheers!"


 

Tyler
Ekdahl
Tyler grew up in a small town in British Columbia called 100 Mile House that has some amazing trout fishing and some beautiful lakes . He have been fishing for as long as he can remember, taking up fly fishing at 19.
"I can still remember hooking that first fish and really feeling how the fish reacted to the bite, not only that but the sensitivity and control I had was unbelievable and from that moment on I was HOOKED!! I love to fish everything from trout, bass, steelhead and salmon! Fly fishing is my choice of weapon and love everything the sport has to offer.
I now find myself fully committed to my fishing whether I'm out fishing, studying bodies of water, researching bugs or tying flies I spent most of my days fishing. I also love tying flies. Chironomids, leaches ,minnows, boatman, scuds, nymphs, boobies ,blobs, drys... you name it and I tie it .
I spend a lot of time examining insects and trying my best to replicate the colors and movements in these bugs that I am seeing the fish feed on . I recently took on competition fly fishing and have done extremely well. I am looking forward to many more years of competing, fishing, and tying !"
Tyler is also the Head Prostaff Member for Togens Fly Shop, where he is constantly testing tying materials, tools, line and leaders. He also does instructional fly tying videos on proven BC patterns. Tyler custom tied flies can also be purchased locally and in many BC fly shops.
INSTAGRAM @tylerekdahl        FACEBOOK Tyler Ekdahl


 

Stanton

Jack
Stanton Jack grew up in Kamloops B.C., where he spent many days fly fishing the awesome lakes and rivers in the surrounding area. In his mid teens, he became an active fly tyer and started putting together patterns that would match the hatches occurring on his local waters. Since then the art of fly tying and fly fishing has become true passion and at times an obsession.
In 2017, Stanton started competitive fly fishing which has further enhanced his knowledge of the sport. From studying the flies and techniques used in competition, and combined with his previous experience of lake and river fishing, he has been able to win medals in both individual and team categories and also been awarded Most Improved Competitor River and Lakes combined for two consecutive years.
Looking ahead, Stanton hopes to one day represent his country on Team Canada and win a gold medal in the awesome sport of fly fishing.
As well as a proud member of the Forged Pro Team, Stanton is also a Togens Fly Shop Pro Team member and a Competitive Angler Ambassador for Chinook Wind Outfitters.
Check out Stanton on Instagram @vanflyfishingOn YouTube Vancouver Fly Fishing


 
Aggie
Fritz
Aggie was born and raised in Hungary, and moved to Canada in 1999.

She lived in Vancouver for 2 years than moved to the Valley in 2002 and lived there till 2019.
In 2019 July she accepted a new position in the Sunny Okanagan and moved there.

She fell in love with fishing at early age joining her Father and Grandfather on the weekends to fish local  lakes and rivers in Hungary, targeting Pike, Catfish, Walleye, Carp and many other fish species .
When she moved to Canada her passion continued with new adventures: fishing for White Sturgeon, Salmon and Trout. Aggie specialized in fly-fishing, and she's passionate fly tier, but she still has good knowledge using gear!

She has done many fly fishing competitions on lakes and rivers with the BC fly fishing league, has actively integrated herself in the fly fishing community of the lower mainland (and now in the Okanagan too), and is involved in river conservation and lake shore clean ups/education.

She loves teaching fly-tying /fly-fishing and passing done the passion to our next  generation focusing on women and youth. 

She is also currently Pro Staff for Cabela's and Basspro Canada, Brand  Ambassador for Chinook Wind Outfitters
and Educational Guide for Black Water guiding.
https://www.facebook.com/blackwaterguiding
 

  

Bob
Bautista
Bob Bautista was born and rais­­­ed in Winnipeg Manitoba and learned how to become a expert angler for pike, walleye, perch, channel catfish and many other species found in the local rivers and lakes. A lot of his knowledge accumulated on the prairies was adapted to fish for trout and kokanee in the Okanagan. He loves to fly fish streams of any size and the many Stillwater around Kamloops and Kelowna, which is the area that he guides professionally. During the spring you can find him fishing chironomids and leeches under an indicator, throughout the many lakes in the region. As the weather warms up, he likes to toss dry flies for rainbow trout and cutthroat trout on southern Alberta waters. Fall draws him to the mighty Columbia river for large strong rainbow trout and walleye. His knowledge can be found at Troutwaters Fly & Tackle in Kelowna.


Forged® Owners Note: Bob brings an incredible wealth of knowledge to Forged®, and has been instrumental in making our reels even better. I've personally been able to work and fish with Bob, and his skill on a lake can't be matched. Very honored to know this guy.


 

  

Dakota
Mercer
Dakota has  been fly fishing since the age of 6, taught by his father on the banks of the Tetsa river deep in the Northern British Columbia mountain range.  Dakota is currently endorsed through Simms Fishing Products, and Nautilus Fly Reels. An avid steelhead and trophy Bull trout fly angler, Dakota has an huge follower database through instagram which all are welcomed to follow (@tightlin3s). He's written articles for flyguys.net , Wilsons, and is currently writing something for flyfusion magazine on bull trout.  Dakota will be moving to the coast next year, to become a full licensed guide for Steelhead and Salmon in the Kitimat-Stikine region of BC. This is just another step into his addiction of this madness which he loves more than anything in the world. Look out for his new youtube channel in the works!
Instagram: @tightlin3s
Forged® Owners Note: Dakota is one of the very best guides I have ever had the pleasure of using, and his knowledge helped make our steelheading footage for "The Dimestore Fisherman" a huge success on the Kitimat River. Aside from that, he's a fantastic person, especially when he's outfishing you! I'm truly glad to have him as a Guide, Pro staffer and friend.





Jayson
Giasson
Originally from Winnipeg, Manitoba, Jayson started fishing at the very young age of seven. My parents worked most weekends but I was lucky to have an uncle who was also seriously into fishing. This uncle, originally from Newfoundland, took us out almost every weekend to our favourite lakes in Manitoba in search of walleye, northern pike, and perch. After my mother's passing, my father moved to British Columbia, and I soon followed. When I'm out on the lake or the edge of the river, I often remember what my mom used to always say, "do what you love to do".
Soon after moving to BC I met Krystal, who is also an outdoor enthusiast, and we created a new life in which we spend a lot of time in the great outdoors. Krystal happened to have a best friend who's husband loves to fly fish, and he soon introduced me a new way of the sport, euro nymphing and stripping flies. I took to fly fishing right away, and with a lot of practice I'm now in competitions with the British Columbia Fly Fishing League. In 2019 our team finished 3rd overall at the North American Loch Style Competition and put me in the rankings at 11th in BC and 25th in Canada. My passion for the sport continues to grow and I'm eager to learn more about the sport as I get out and fish every chance I get. My ultimate goal is to join Team Canada and compete in the Commonwealth Championship.
Follow Jay's progress on Instagram @netnfish


    

Mark
Hillson
Mark Hillson learned to fish at an early age, from the Bow River, to Ontario and all over Beautiful British Columbia, Mark has seen and fished it all. With over twenty years fly-tying experience, he can supply you with all of the essential flies you need to succeed, no matter what fish you're targeting. Mark is an essential and valued Pro Staff member at FORGED®, and a certified River Guide that will make your Vancouver Island fishing trip memorable. For information on Mark's guiding services or to book an ECO tour, visit www.cowichantroutfitter.com   



    

Kurtis
Billings
For as long as he can remember, fishing has always been Kurtis Billings' passion. His father taught him how to fly fish at five years old on the Cowichan River, and soon after Kurtis fell in love with Steelhead. If a type of fish resides around Vancouver Island, Kurtis has targeted it. The Ocean is Kurtis' second home as he was brought up targeting salmon at a young age, and he now uses that experience currently working his dream job doing summertime charters for salmon and bottom fish off the West Coast of Vancouver island. Kurtis has been an avid fisherman around Vancouver Island for 15 years and hopes to create smiles for his guests for many years to come. FORGED® is honored to have him join the family, and thrilled to share in his enthusiasm and professionalism. For information on Kurtis' services, contact: River Quest Charters 5650 West Riverbottom Rd, Duncan, BC V9L 6H9 (250) 748-4776 



  

Marley
Bates
Marley Bates started trout fishing at a young age, spending his summers camping and traveling around the Pacific North West with his father out of an old Volkswagen van. Since he bought his first fly rod in his early teens, fly fishing and exploring the rivers and lakes of the Cowichan Valley and surrounding areas has become an obsession. When he's not on Vancouver Island targeting big trout in back country lakes or salmon and steelhead in local rivers, he's traveling down south in New Zealand visiting his kiwi side of the family and hooking in to large brown and rainbow trout on the dry fly. Marley's passion for fishing has turned into a way of life as he now has a career as a salt water fishing guide, fishing for salmon and bottom fish in Nootka Sound, Vancouver Island.

Moutcha Bay Resort, Nootka Sound : info@nootkamarineadventures.com


 

Brian
Bergeson
You would think that with Brian Bergeson's fly fishing accomplishments that he came from a long list of fly fishing lineage. With his experience and expertise you would think that he grew up in the Bridger or San Juan Mountain ranges. Not Brian, he calls Duluth, Minnesota home. As a Minnesota native he cut his teeth perfecting his art fishing for local Brook Trout, Walleye and Lake Superior Salmon and Steelhead. Joining the 1999 Youth Team USA Fly Fishing Team elevated his interest in fly fishing and furthered his skill set. Brian battled alcohol abuse in his 20's and lost interest in fishing. Missing friendships and North Shore Steelhead Brian became sober a few years later. Around the same time he met a long lost friend in the middle of the Brule River wilderness who reignited his passion for fly fishing. It was at that point Bergeson decided to elevate his game. Since then he has been one of the fly fishing pioneers of Esox Fly Fishing in the Midwest, and continues to chase fish all over the country with a fly rod. Brian operates Rip Lips Custom Musky Flies and is a signature tier for Montana Fly Company. He is also a Field/Pro Staff member of TFO Fly Rods, Scientific Anglers and Fishbum Outfitters.


             

Wesley
Meierhofer
Wesley started fly fishiing with his grandfather, teaching him to fly fish and tie around ten. He started with trout in the kamloops and prince george areas, until high school when he started spending summers at his grandmothers in terrace, BC.

"It didnt take long for me to become an addict. When I graduated I moved to terrace and have spent the last 6 years exploring the area and chasing a tight line. Now I am a second year guide for northpacificspey fishing charters. I would have to say my favorite species is chinook salmon, but steelies are a close second. Favorite technique is definitely swinging flies."




     

Felix
Geiser


Felix Geiser has been fly fishing for as long as he can remember, and guiding since 2003 on the Upper Pitt River, The west coast of Vancouver Island, Haida Gwaii and Skeena River System.
Born and raised in the Vancouver area of British Columbia, he grew up fishing all the areas rivers for Steelhead, Salmon, Trout and Sturgeon.In the Summer you can find him In Winter Harbour, on the north west tip of Vancouver Island chasing chrome salmon, Halibut and Tuna on both Fly and conventional methods. In the Fall it's all about chasing ocean chrome anadromous fish on the world famous Skeena River system, where he guides for a world class operation. Felix spends Over 200 + hard days on the water for large powerful fish and is very demanding of quality fishing gear that will get the job done and put up with the abuse. This is why he is proud to represent Forged Fishing products. He is all about supporting local BC products, that are made to last and perform at price point that will be very appealing to any angler.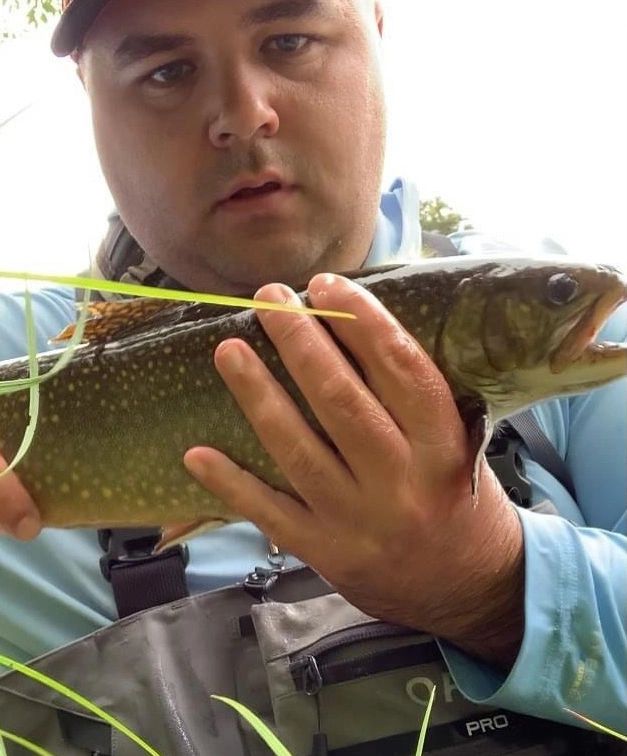 Justin

Lovell is 34 years young and from the east coast of Canada, Cape Breton Island to be exact. Justins resume is extensive, and includes a background as a podcaster, commercial fly Tyer, fly fishing guide / instructor and most recently a TV host.

"I love fishing both fresh and salt water, some of my target species are: rainbow trout, striped bass, Atlantic salmon, brown trout as well as brook trout.I'm very excited to be on forged fly fishing team and to help out anglers any way I can whether they be professionals or folks who are new to the sport.    You can follow me on social media under the name cbflyfishing or check out my website www.cbflyfishing.ca"
Forged
Field
Staff
FORGED® Field Staff represent the majority of who we cater to: anglers who pursue this lifestyle passionately, and like Pro Staff, are stewards to our environment. Field Staff also act as Ambassadors for FORGED®, and contribute to our designs and testing. If you're fortunate enough to meet them on the water, be sure to introduce yourself, because not only are they great anglers, they're great folks!





Kyle
Meek
Kyle was born and raised in Terrace BC, so a fly fishing addiction for him does not come by surprise. What is a surprise, is a guy from BC's mecca salmon/steelhead river country, is a full on stillwater trout wizard! You can find Kyle fishing lakes from ice off at the end of March until the day they freeze in mid-end November. If he's not on the water he's on the vise preparing for the next trip out or helping to fill a fellow anglers boxes. His favorite method of fishing is hanging chironomid patterns under indicators in the spring, followed closely by stripping staples in shallow water in late fall. Immense amount of angling days per year have allowed Kyle to develop a great knowledge and understanding of the interior BC lakes and their hatches. If you are fishing lakes in region 3 or 8 in BC, you're bound to run into Kyle eventually. Don't hesitate to say hello and introduce yourself as he will never pass up an opportunity to talk all things trout and loves helping fellow anglers get on the fish! 
Instagram: @meeker_13
"FORGED® is thrilled to have Kyle join its ranks , and is even more thankful of the knowledge and ideas that Kyle brings. A huge passion for the sport and a willingness to help out others makes us so grateful to say that Kyle is an asset to whoever he meets on the water. Check out his Instagram today!"




Mike
Killin


Mike has had a love of fishing that began when he was a small boy, spending the weekends fishing for trout off the seaplane docks in the Campbell river estuary with his father. 3 years ago he picked up his first fly rod and tying kit. That first trout ignited a passion that has done nothing but grow. Any time not at work you'll find Mike out floating around his favourite local lakes in a pontoon boat chasing trout and bass, swinging flies on local rivers for salmon/steelhead or scouting beaches for the next good searun hole. "FORGED® products allow me to follow my passion no matter the season, no matter the species, without breaking the bank." Much of our best photography comes from Mike, and for that we thank him.


                                                                                                                             

Brian
Rapinchuck


Brian's interest in fishing started about 55 years ago when his father first put a rod in his hands. He naturally progressed through a variety of fishing styles until he came upon fly fishing some 45 years ago, and the art and science of studying the water and throwing flies has been his passion ever since.

"We are quite blessed here in Manitoba to have an abundance of lakes and rivers, which provide us the opportunity to target numerous species of fish. This is actually great for me because next to fishing, there is nothing I enjoy more than tying my own flies, and the varying food sources for the numerous local fish species gives me a great excuse to spend many hours during the long winter months huddled over my vise."


                                                                                                                                 

Hadden
Page
Hadden has been a fly angler since 12 years old, his first experiences beginning on the Liard and Tetsa rivers. Learning from his father, his passion for the sport has continued to grow ever since. Some favorite places to fish are the Halfway River and its tributaries, small freestone streams casting dries to rainbows and grayling. Hadden also enjoys exploring the beautiful waters that the Peace Region has to offer. Forged® is happy to benefit from Hadden's experience and passion for our sport, and if you see him out on the river, make sure to say Hi!
Forged® Owners Note: Hadden's fly tying ability has become well known in Northern BC, and I look forward to our next sit down with fur and feathers. A fantastic angler, as well as a solid personality that makes me honored to call him a friend.





                                                                                                                                                

Kage
Kossler
"Hi, My name is Kage Kossler, I'm a 13 year old home schooler, and Fly Fishing is my passion. I started at age 8 in my hometown of Bend, Oregon. In 2013 I moved to Alaska with my family and started fishing all over south-central Alaska and around the Kenai Peninsula. I've fished for grayling, rainbows, dolly varden, steelhead and salmon.
This past year I was fortunate enough to compete in the North American Loch Style Championships in BC, and the Youth Nationals in North Carolina. I also attended and watched some of America's top fly fisherman compete in the US Nationbals here in Bend. These experiences have helped me better master loch-style lake fishing and euro nymphing! My ultimate goal is to make the US Youth National Fly Fishing team and Represent the USA."
Instagram - ageofkage       Facebook - Ian Kage
Forged® Owners Note: "I was able to compete against Kage in the North American Loch Style Championships this past year, and never have I met a young man so talented, respectful and eager to learn as Kage. His attitude and personality made everyone who had the pleasure of him as a boat partner or teammate thankful for his attendance. Forged® will be there to help him achieve his dreams, and we can't wait to see it happen."
                                                                                                                  
James

grew up in a small town in Cape Breton, NS. Although he was an only child, he has a big family and spent many days fishing as a child with his uncles.

James

was always outside adventuring, tinkering with cars and 4 wheelers, or on the ski hill. He spent his teenage and young adult years heavy into snowboarding which took him traveling all over Canada . He ended up in Truro, NS where he settled down and has been a full time firefighter for almost 5 years. Due to the freedom that this career provided him, he was able to pick up a hobby - Fly Fishing. Only three years ago, he purchased his first fly rod and, by himself, off to the great outdoors he went. He spent that summer, "basically everyday" says his girlfriend, practising his cast and learning the ways of the rivers. He became obsessed and fully immersed himself into this new lifestyle. He;s met hundreds of people riverside and gained some close friends who share his love for Atlantic Salmon. The amount of knowledge and skill James has accumulated has given him lots of opportunities, such as being a part of the Cumberland Rivers Association. Through this he became heavily involved in waste reduction, trail and path clearing, bank stabilization and research for overall health of the Cumberland Rivers

.

Check out his Instagram Jamesalbertbessette for lots of fishing and drone photography!