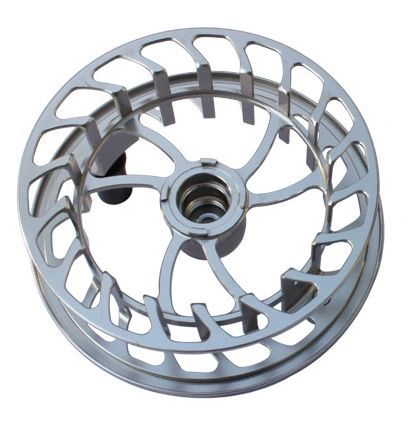 "Requiem" Spool
The Requiem reel is the flagship of the Forged reel line and is leader in lightweight large arbor design.

Machine cut from the finest grade 6061 aluminum billet stock and features precision needle bearings on a chrome alloy spindle for remarkably smooth handling.

Our large arbor means that you will have less line memory and faster retrieval.

The unique heat-dissipating Cork/Delrin Disc Drag provides infinite control to protect fine tippets and yet provides ultimate fish turning power.

Sizes range from 3/4 all the way up to 9/10.
A variety of Drag Cap colors available, check out our Accessories: Blue, Purple, Red, Green, Pink.

     Size           O/S Dia            I/S Dia      Spool Width    Weight   Backing

| | | | | | |
| --- | --- | --- | --- | --- | --- |
| 3/4 | 83mm | 62mm | 34mm | 135g | 50y |
| 5/6 | 90mm | 62mm | 34mm | 135g | 75y |
| 7/8 | 97mm | 67mm | 34mm | 135g | 100y |
| 9/10 | 104mm | 72mm | 34mm | 135g | 125y |
Forged Requiem Large Arbor Reel:
 2 year Limited Warranty
(Remember: disengage drag when not in use)
Disclaimer of Warranties and Limitations on Liability
Should any damage occur to your Forged Reel, we will promptly repair or replace according to Forged's Warranty Policies.
Forged Warranty Policy
Forged stands behind the products we make and your satisfaction is important to us. Forged designs gear that performs and gets the most out of your time in the great outdoors.
We understand the importance of quality gear and you deserve products that perform. If you are not satisfied with any Forged product, you may return the product in accordance with Forged's warranty policy.

Reel Warranty
Every new Forged "Requiem" Freshwater Large Arbor Reel is covered by a 2 year Limited Warranty against defects in materials and workmanship and must include a dated proof of purchase.This warranty is limited to repair or replacement of the reel only, and does not cover direct, indirect, consequential, incidental or any other type of damage resulting from the use of the product. This warranty does not cover misuse, neglect, normal wear, fire, theft, loss, or intentional damage. Forged reserves the right to determine whether to repair or replace any Forged product covered by this warranty and the right to replace any discontinued models with the newer models when necessary. Colors variation between original and replacement parts will only happen with the permission of the model's owner. In order to invoke this warranty, the original owner must send the entire Forged Product, including broken parts or pieces, freight paid and insured to the address given to the owner once they have contacted Forged.
Reviews