Royale Saltwater / Spey Reel Combo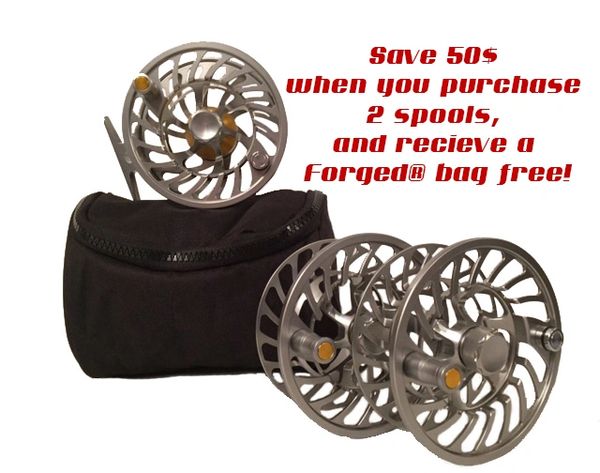 Royale Saltwater / Spey Reel Combo
Get the Combo and SAVE $50!!

The FORGED® Royale Fly Reel Combo includes a Royale Saltwater / Spey Reel and 2 spools, all in our new FORGED® Fly Reel Case, a better way to protect your FORGED® Fly Reels and extra spools! Our durable fly reel bag has three padded compartments, which can be used to hold three FORGED® Reels and/or extra spools in one bag! Lightweight, durable and small enough to easily fit into any pack for that next fishing trip.
You just choose what size, and we'll do the rest. With this combo you save
$50
!!
New Forged "Forward Momentum" Large arbor design. 
Saltwater Approved

Made of finest grade single piece aluminum T6061 billet stock through Cold-Forging Process.

Easy right and left hand conversion.

New deep valley spool design allows backing to not take up valuable space for running line and more, making this the ultimate Spey / Switch reel.

Large diameter Cork / Delrin drag with low start up inertia and a ultra smooth feel!

Precision needle bearings on a chrome alloy spindle allow for remarkably smooth handling. Comes in Gun barrel Silver with gold accent.




Size  O/S Dia   I/S Dia  Spool Width Yards Backing

 5/6     93 mm   54 mm       32 mm          125 yds
 7/8   102 mm   58 mm       34 mm          150 yds
 9/10 108 mm   66 mm       34 mm          175 yds


Forged Royale Saltwater / Spey Reel:
 5 year Limited Warranty
(Remember: disengage drag when not in use)
Disclaimer of Warranties and Limitations on Liability
Should any damage occur to your Forged Reel, we will promptly repair or replace according to Forged's Warranty Policies.
Forged Warranty Policy
Forged stands behind the products we make and your satisfaction is important to us. Forged designs gear that performs and gets the most out of your time in the great outdoors.
We understand the importance of quality gear and you deserve products that perform. If you are not satisfied with any Forged product, you may return the product in accordance with Forged's warranty policy.

Reel Warranty

Every new Forged "Royale" Saltwater / Spey Reel is covered by a 2 year Limited Warranty against defects in materials and workmanship and must include a dated proof of purchase.This warranty is limited to repair or replacement of the reel only, and does not cover direct, indirect, consequential, incidental or any other type of damage resulting from the use of the product. This warranty does not cover misuse, neglect, normal wear, fire, theft, loss, or intentional damage. Forged reserves the right to determine whether to repair or replace any Forged product covered by this warranty and the right to replace any discontinued models with the newer models when necessary. Colors variation between original and replacement parts will only happen with the permission of the model's owner. In order to invoke this warranty, the original owner must send the entire Forged Product, including broken parts or pieces, freight paid and insured to the address given to the owner once they have contacted Forged.